New publications
"Umysł prawniczy", Bartosz Brożek
There are no translations available.
Wydawnictwo: Copernicus Center Press
Rok wydania: 2018
ISBN: 978-83-7886-405-89
Oprawa: twarda
Liczba stron: 274
Jak myśli prawnik? Czy istnieje intuicja prawnicza? Czy prawnik potrzebuje wyobraźni? Dlaczego prawo jest abstrakcyjne?
Myślenie prawnicze od wieków stanowi wyzwanie dla teoretyków prawa i filozofów. Nie sposób się temu dziwić, zważywszy na rolę, jaką prawo odgrywa w organizowaniu życia społecznego i jako gwarant naszych wolności. Na czym jednak polega myślenie w prawie? Czym różni się od rozumowań, które przeprowadzamy w innych dziedzinach refleksji i w życiu codziennym? Jakie są jego granice? Czy prawnikowi "wolno mniej" niż matematykowi czy biologowi? Kiedy decyzje prawne uznać możemy za uzasadnione?
Bartosz Brożek, posiłkując się analizami filozoficznymi i najnowszymi ustaleniami nauk kognitywnych przekonuje, że myślenie w prawie polega na ścisłym współdziałaniu trzech narzędzi poznawczych: intuicji, wyobraźni i języka. Ta nowatorska koncepcja prowadzi do ważnych pytań o granice interpretacji prawa, racjonalność w prawie i cele edukacji prawniczej
"Law and Evil: The Evolutionary Perspective", Wojciech Załuski
There are no translations available.
Wydawnictwo: Edward Elgar
Rok wydania: 2018
ISBN: 978-1-78643-649-8
Oprawa: twarda
Liczba stron: 160
Law and Evil presents an alternative evolutionary picture of man, focusing on the origins and nature of human evil, and demonstrating its useful application in legal-philosophical analyses. Using this representation of human nature, Wojciech Załuski analyses the development of law, which he interprets as moving from evolutionary ethics to genuine ethics, as well as arguing in favour of metaethical realism and ius naturale.
"Sztuka manipulacji", Jerzy Stelmach
There are no translations available.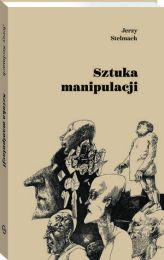 Wydawnictwo: Wolters Kluwer
Rok wydania: 2018
ISBN: 978-83-8160-002-6
Oprawa: twarda
Liczba stron: 120
Nie znoszę pisać notek reklamowych na okładkę. Sam o sobie, o swojej już skończonej pracy. Tym bardziej, że wydawca oczekuje, żeby taka notka była krótka, mądra i śmieszna. Istnieje druga możliwość, chyba jeszcze głupsza, poprosić kogoś rozpoznawalnego o wyrażenie opinii. Wybrany przypadkowo, w pewnym sensie przymuszony, bo nie wypada mu z przyjaźni lub litości odmówić, musi napisać rekomendację książki, która w najlepszym razie mało go interesuje, a w najgorszym – której nawet nie zna. Rzecz jasna, znów powinien napisać coś krótko, mądrze i śmiesznie. Zastanawiam się, czemu ma to służyć, przecież na okładkach wszystkich książek, w tym również wszelkiego rodzaju gniotów, napisane jest zawsze mniej więcej to samo. Gdyby jednak ktoś mimo wszystko chciał zapytać mnie, co sądzę o »Sztuce manipulacji«, odpowiedziałbym, że rysunki Jacka Gaja są naprawdę świetne.
,,The Ethics of Reproductive Genetics", red. Marta Soniewicka
Publisher: Springer (2018)
ISBN: 978-3-319-60683-5
Hardcover
Pages: 257
This book is aimed at analyzing the foundations of medical ethics by considering different moral theories and their implications for judgments in clinical practice and policy-making. It provides a review of the major types of ethical theory that can be applied to medical and bioethical issues concerning reproductive genetics. In response to the debate on the most adequate ethical doctrine to guide biomedical decisions, this book formulates views that capture the best elements in each, bearing in mind their differences and taking into account the specific character of medicine. No historically influential position in ethics is by itself adequate to be applied to reproductive decisions. Thus, this book attempts to offer a pluralistic approach to biomedical research and medical practice. One usually claims that there are some basic principles (non-maleficence, beneficence, confidentiality, autonomy, and justice) which constitute the foundations of bioethics and medical ethics. Yet these principles conflict with each other and one needs some criteria to solve these conflicts and to specify the scope of application of these principles. Exploring miscellaneous ethical approaches as introduced to biomedicine, particularly to reproductive genetics, the book shall elucidate their different assumptions concerning human nature and the relations between healthcare providers, recipients, and other affected parties (e.g. progeny, relatives, other patients, society). The book attempts to answer the question of whether the tension between these ethical doctrines generates conflict in the field of biomedicine or if these competing approaches could in some way complement each other. In this respect, lecturers and researchers in bioethics would be interested in this reading this book.
<< Start < Prev 1

2

3 4 5 6 7 8 9 10 Next > End >>


Page 2 of 13