New publications
,,After God - The Normative Power of the Will from the Nietzschean Perspective", Marta Soniewicka
Publisher: Peter Lang (2018)
ISBN: 978-3-631-73563-3
Hardcover
Pages: 278
This book analyzes the main problems of Friedrich Nietzsche's critical philosophy, such as the theory of being, the theory of knowledge and the theory of values. It also addresses his positive program which is based on a number of fundamental conceptions, namely the will to power, the Übermensch, bestowing virtue and the notion of the eternal recurrence. The «death of God» must, in Nietzsche's opinion, lead to a revolution in human consciousness which requires the creation of a new frame of reference for values. To realize this aim, Nietzsche invokes the will which has the normative power to create values and even to overcome time. The author sets his focus on the «tragic gay science» that has never been fully elucidated and still affords new perspectives for interpretation.
,,The Province of Jurisprudence Naturalized", red. Jerzy Stelmach, Bartosz Brożek, Łukasz Kurek
There are no translations available. Wydawnictwo: Wolters Kluwer
Rok wydania: 2017
ISBN: 978-83-8124-013-0
Liczba stron: 232
Oprawa: twarda
The study of law is, first and foremost, the study of a human practice. The full account of the practice of law can be given by explaining legal rule-following behaviour not only from the scientific, i.e. objective, perspective, but also from that of the person who must decide how one will respond to the law. Answers to various and persistent jurisprudential questions – such as "what is the law?" or "what is the difference between law and morality" – require an account of what it means that a person accepts a legal rule as a legal rule and not as a rule of any other normative system. Unfortunately, it seems that this subjective point of view is beyond the reach of scientific method. Science allows us to study the social behaviour in the legal context, but it does not allow us to distinguish between the acceptance and non-acceptance of legal rules.
,,Naturalizm prawniczy. Granice", red. Jerzy Stelmach, Bartosz Brożek, Łukasz Kurek
There are no translations available.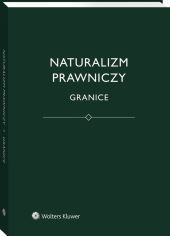 Wydawnictwo: Wolters Kluwer
Rok wydania: 2017
ISBN: 978-83-8124-041-3
Liczba stron: 268
Oprawa: twarda
Niniejszym tomem zamykamy projekt naukowy poświęcony naturalizacji prawa. Dwie pierwsze prace zbiorowe dotyczyły "stanowisk" oraz "interpretacji", ten zaś kwestii "granic". Jakkolwiek w naszym zamyśle te trzy tomy mają stanowić pewną całość, to jednak każdy z nich dotyczy innego zakresu problemów powiązanych z naturalizmem prawniczym i daje się czytać niezależnie od pozostałych. 

Celem opracowania jest zarówno rozwinięcie pewnych wcześniej już podjętych wątków, jak i wskazanie kilku nowych obszarów badań. Nie ma to jednak być w zamyśle redaktorów żadne podsumowanie. Celem całego projektu było bowiem "odnowienie" (aktualizacja) debaty związanej z naturalizmem, przede wszystkim zaś tej związanej z naturalizmem prawniczym, a nie formułowanie ostatecznych i jedynie ważnych teorii i twierdzeń. Szczególnie istotna była dla nas interdyscyplinarna perspektywa badań nad naturalizmem prawniczym, nie tylko ta filozoficzno-prawna, lecz także filozoficzna, psychologiczna, ekonomiczna, wreszcie neuroscience oraz dogmatyczno-prawna. Był to jeden z głównych celów i mamy nadzieję, że również rezultatów ukończonego właśnie projektu.
,,Krakauer-Augsburger Rechtsstudien. Normschaffung'', red. Phillip Hellwege, Reiner Schmidt, Marta Soniewicka, Jerzy Stelmach
There are no translations available.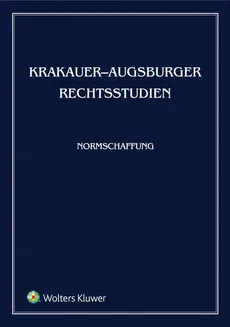 Wydawnictwo: Wolters Kluwer
Rok wydania: 2017
ISBN: 978-83-8107-274-8
Oprawa: twarda
Liczba stron: 300
<< Start < Prev 1 2

3

4 5 6 7 8 9 10 Next > End >>


Page 3 of 13